30th November 2009
Award of Malta Internet Foundation 2009 Prize
The Malta Internet Foundation recently awarded the 2009 prize in favour of academic work making a significant contribution to Internet technologies.
This year, the theme for the prize was work involving Geographical Information Systems (GISs) that made use of the Internet and which addressed a need particularly relevant to the Maltese context.
The Prize was awarded to John J. Camilleri, Keane Cassar, Lukas Galea and Michael Grech all of whom are reading for the BSc. IT Hons at the University of Malta within the Faculty of ICT. The work was carried out as a group practical task under the supervision of Dr. John Abela of the Department of Intelligent Computer Systems.
A system to aid the general public in making decisions about installing renewable energy technologies was designed and implemented, the overall objectives being to service users over the internet, allowing them to analyse any area selected on Windows Live Maps. The selected area is split into cells, and the user can choose an available renewable source of energy to be graded, prompting the system to check how efficient that source is in every cell of the selected area. The efficiency is calculated by checking the performances of a number of relevant products were they to be deployed in that area. Finally, each cell is coloured according to this efficiency, giving the user a clear indication of how ideal the area is for that renewable source.
The cash prize was presented to the winning team by Prof. Juanito Camilleri.
The date of the award, 18th November, coincided with GIS Day which is celebrated every year to raise geographic awareness across the world through GIS technologies.
The Foundation will shortly be announcing the theme for next year's award.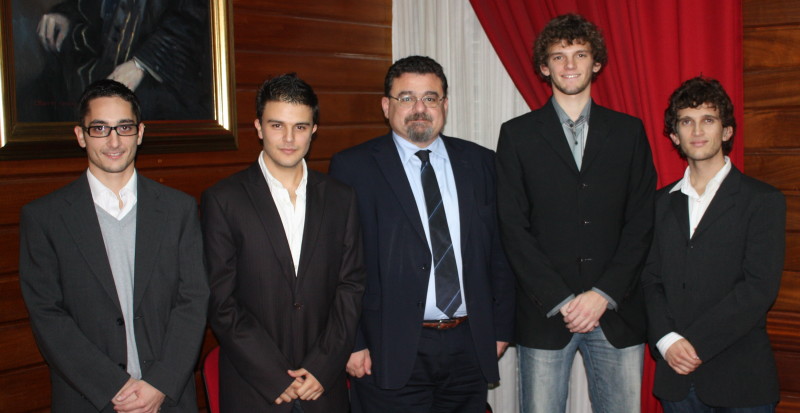 Prof. Juanito Camilleri with the winners of the prize
About the Malta Internet Foundation
The Malta Internet Foundation, also known as NIC(Malta), was officially inaugurated in January 1999 and is responsible for managing the .mt top-level domain for Malta. The mission of the Malta Internet Foundation also includes activities to promote use of the Internet in Malta. The Foundation was responsible for the setting up of the Malta Internet eXchange (MIX) to facilitate local IP traffic between local ISPs. Current activities also include supporting IPv6 and offering annual prizes for outstanding projects on Internet-related themes. The Foundation is a member of the Maltese IPv6 Task Force and, together with University of Malta, coordinates the Malta IPv6 national test-bed (M6ix).
Website: www.nic.org.mt
30th November 2009